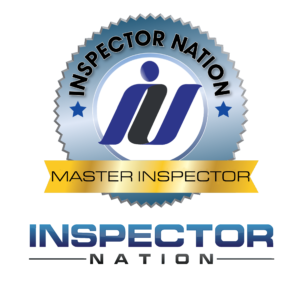 Inspector Nation Master Inspector - Requirements

Demonstrated knowledge in core areas of residential home inspection: Structural; Exterior; Roofing; Plumbing; Electrical; Heating & Cooling; Interiors & Appliances; Insulation and Ventilation; Appliances; and the Inspector Nation Standard of Practice. Prerequisite Experience: 5 years of experience as a home inspector with at least 1000 completed residential home inspections. Required: Completion of a Knowledge Examination
a. Prerequisite Knowledge: Demonstrated knowledge in core areas of residential home inspection: Structural; Exterior; Roofing; Plumbing; Electrical; Heating; Cooling; Interiors; Insulation and Ventilation; Appliances; and the Inspector Nation Standard of Practice
i. Knowledge can be shown through completion of approved education courses in each of the topic areas.
ii. Knowledge can also be shown through having earned approved related certifications (Ex: Holding 8 core Inspector Nation Certifications that overlap these 10 knowledge areas).
iii. Education and Certification companies can apply for the review process to determine if their programs meet the educational standards set forth by Inspector Nation in order to allow their students and certification holders to meet our reciprocity requirements.
b. Prerequisite Experience: The applicant must attest to having completed no less than 1000 residential home inspections during their career. In addition, the applicant must submit 5 home inspection reports for review to ensure they are capable of meeting the standard of practice of Inspector Nation and of their state home inspection licensing board.
i. If deficiencies are found in the submitted home inspection reports, the applicant may be denied or may be required to take additional education from an Inspector Nation approved education provider at the discretion of the board.
c. Prerequisite Professional License: As this certification pertains to the field of home inspection, the applicant must have held a state issued home inspection license for a term of no less than 5 years.
i.  If the applicant practices in a state without a home inspection licensing program, alternate proof off the applicant practicing as a home inspector for the stated term can be accepted (business information, date inspection report, ...). 
ii.  In addition, the applicant may be required to enroll in supplemental education through an Inspector Nation approved provider to meet minimum requirements.
d. Professional Code of Conduct: The application must disclose any previous complaints that have been filed with any state licensure board in which they have previously held a state issued license, including home inspection but not excluding any other related field such as engineering, code inspection, or general contracting. They must also adhere to the Inspector Nation Standard of Practice and Code of Conduct. This knowledge will be tested during the official Inspector Nation Master Inspector examination. An individual that has previously been convicted of a misdemeanor or felony offense will not be eligible for application, however they may appeal this decision. Inspector Nation must be informed of any new violation, complaint, or infraction within 60 days of its occurrence.
e. Knowledge Examination: After an applicant has successfully demonstrated compliance with all listed prerequisites, they may sit for the knowledge examination. This examination must be passed with a score of 70 / 100, with the option to retake 1 time per month.
f. Annual Renewal: Certification holders will be required to take a mandatory update course each year, available through Inspector Nation. In addition, they will be required to submit an update application to notify Inspector Nation of new developments in the past year.
g. Application Fee: $1000.00
i. Fee is only billed if an applicant qualifies for the knowledge examination.
ii. Fee is Waived/Included with Previous Inspector Nation Master Inspector Membership Package Purchases